WESTERN BOAT LIFT (SASK DIVISION) INC.
Located in Warman, Western Boat Lift (Sask Division) Inc. is Saskatchewan's exclusive dealer for FLOE boat lifts, docks and trailers. We know boat products inside and out, which is why we're extremely confident selling FLOE products, knowing they'll always lead to happier days at the lake with friends and family.
We understand that a dock or lift is a major purchase, and we want to make sure you get the right system so you only have to do it once. Our main priority is getting you the system that makes the most sense for you, including the features that suit your specific circumstances. That's why we meet with you directly to plan and customize the perfect system to save you time and effort. We consider variables such as the angle of the shoreline, type of lake bottom, water depth, and the weight of your boat.
FLOE products have several unique patented technologies, making them an industry leader and giving you more time to spend on the lake, enjoying your day. Quick and easy to install, with trouble-free maintenance, having a FLOE dock or boat lift will make you the envy of your lakeside neighbours!
Stop in today at our Warman location to see the product first-hand, talk to the owner and get a quote. We would love to have an opportunity to help you create your own lakeside oasis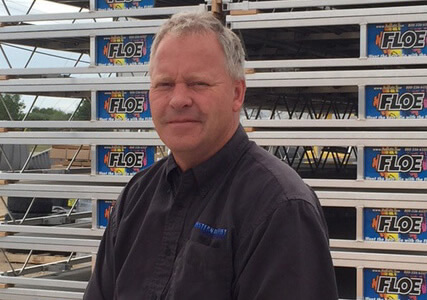 Meet The Owner
Dale Kaup has been operating the Saskatchewan branch of Western Boat Lift since 2007. After he and his brothers purchased a FLOE dock and lift system for their family cabin in 2001, they were so impressed with the product that they decided to turn it into a family business. Today, Western Boat Lift is the largest FLOE dealer network in North America, covering four Canadian provinces.
Dale stands behind the products he sells. He knows that quality design and personalized service matter most when it comes to creating a lakeside experience you'll love for years to come. Call or drop by Western Boat Lifts to learn more about Dale's story and borrow some of his expertise.
Western Boat Lift Dealer Award
Western Boat Lift (Sask Div) is proud to have earned the title of Platinum Dealer from FLOE International for several consecutive years. We would like to thank FLOE International for continually being an innovative industry leader and manufacturer of great products that we are very proud to sell.