A GAME CHANGER
If you're looking for an experience that will challenge anything that's come before it, you're looking for Varatti. The Varatti™ Z22 surf boat combines easy handling with a lightweight body for a clean glide that blows your previous boating experiences out of the water. You'll literally skim across the water, all while using less energy; that's what ingenious engineering can do.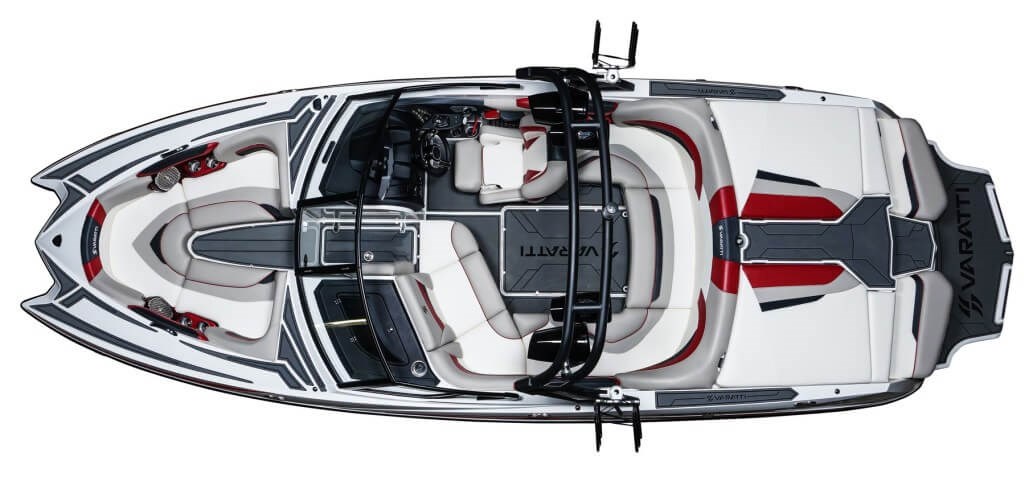 Contact Us
CAPABILITY & PERFORMANCE
From cruising and tubing to wakeboarding and waterskiing, the Varatti™ Z22 surf boat can handle it all. Better views for your companions come from the lowered bow rise, and this boat is set up for any kind of fun you're determined to have.
JOYSTICK PILOTING
Get back to riders and weave your way easily through crowded docks.
VARATTI WAKE CONTROL SYSTEM
From slalom to surf wake, all it takes is the push of a single button.
EXCLUSIVE MULTI-SPORT HULL DESIGN
Wake sports of all types are a breeze in the Varatti™ Z22.

INTELLIGENT CONTROL CENTER
Intelligent steering wheel and large touch screen control system deliver an advanced  user friendly experience.

AN INCREDIBLE SOUND SYSTEM
Rock out anywhere you go with a Premium Rockford Fosgate stereo.

HIGH PERFORMANCE MERCURY POWER
Designed for optimal tow sport abilities.
---
CUSTOMIZE YOUR RIDE
The Varatti™ Z22 can be customized to your specific needs with a variety of options, features, and add-ons.
Please visit VARATTI BOATS for additional options and specifications or get in touch with our experts at Western Boat Lift.