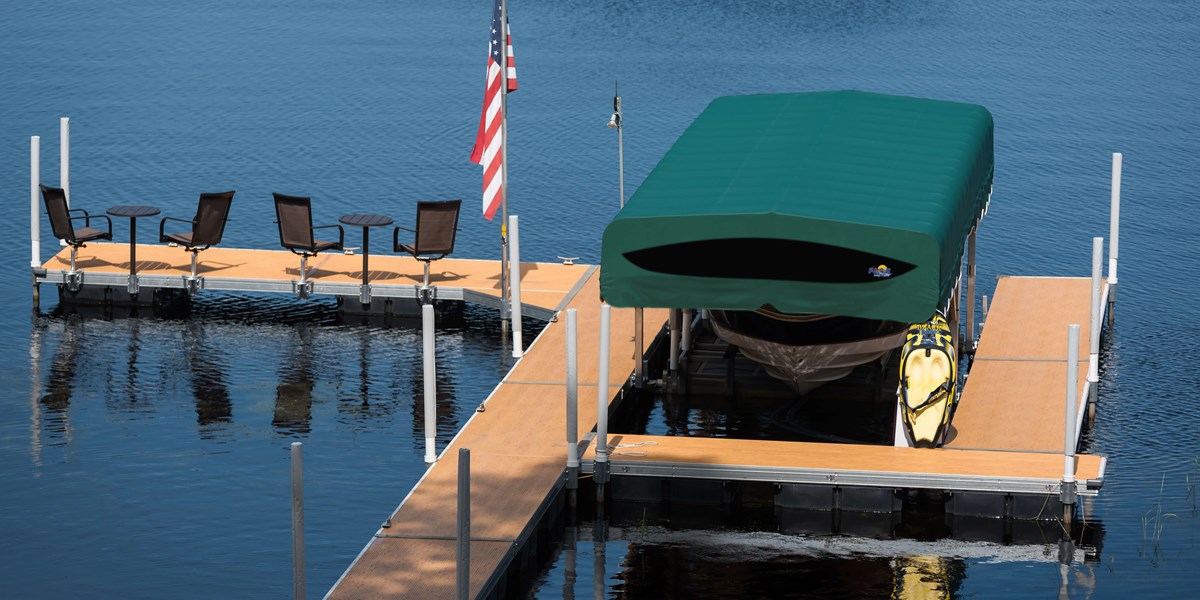 FLOAT LIGHTLY THROUGH YOUR SUMMER
Engineering floating docks that provide full stability isn't easy, but it is possible. FLOE's floating docks have been designed with extruded aluminum frames combined with foam-filled floats for the best float technology on the market.
HAVE IT YOUR WAY
What if you could create a dock without any kind of anchor and without the limitations of a single configuration? Floating docks offer endless layouts that are simple to reconfigure. Quick-release hinges on each section allow for the easy attachment of sections to one another.
Anchor your dock or add accessories anywhere along it with the patented underside track system that comes with all floating dock sections. You can secure guide poles with an attached auger to the bottom of the shoreline to add stabilization (for water levels under 10ft). Brackets allow for fluid movement of the dock sections, even as water levels rise and fall.

ENDLESS ENTRY OPTIONS
All things are possible with a floating dock, including entry options that range from gangways and shoreways to ramps. You can also combine rolling dock sections to start your floating dock for simple access.
SPECIFICATIONS
Dock sections are available in 3', 4′, 5', 6' and 8' widths and 16′, 20′ or 24′ lengths.
APPLICATIONS
Floating Docks are Best Suited for:
Areas with high fluctuation in water depth
Muddy bottoms
Deep water

Get in touch with our experts at Western Boat Lift to learn more about the technical specifications and options available.
Contact Us