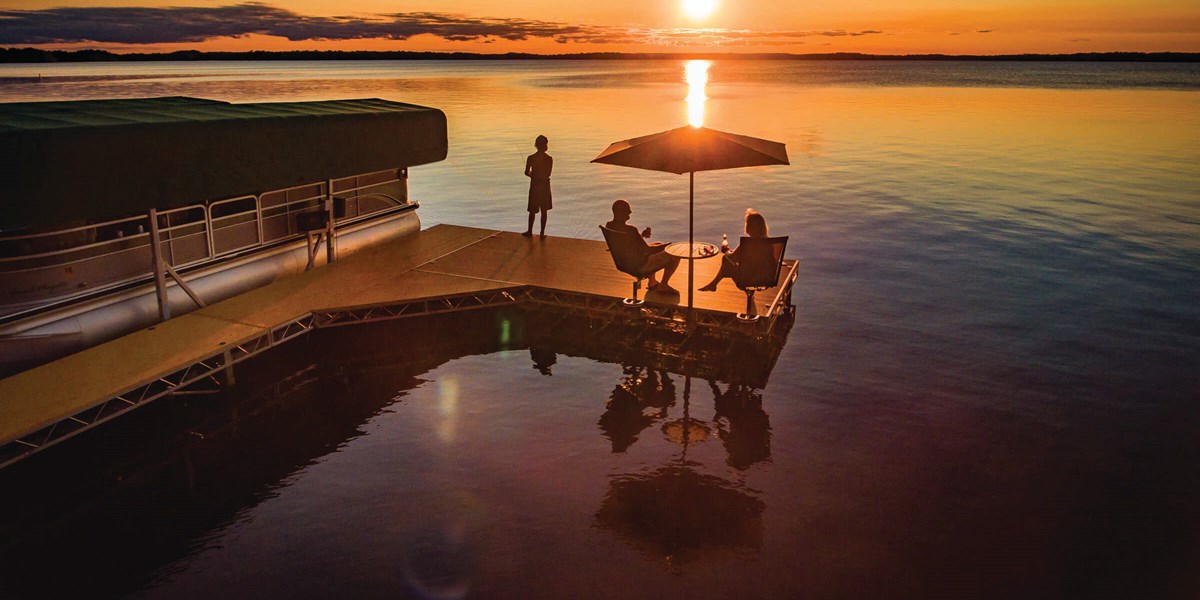 FLOE ROLL-IN DOCKS
FLOE's roll-in docks are strengthened by the Bridge-Type Truss design, which allows waves to flow through the trusses under the platform. All welds are hidden inside the dock structure to create clean edges. Plus, the polymer wheels won't rust, wear out, or go flat, which means you'll get more use from your roll-out dock with less maintenance.
CONVENIENT OFF-SEASON SECTIONAL STORAGE
Roll-in docks are perfect for off-season storage. Easily pull your lightweight dock in for the winter or when you can't be at the lake. Thanks to the sectional design of these dock systems, you'll be able to easily store your dock anywhere by disconnecting the sections.
EASY INSTALLATION, EASY REMOVAL
Our roll-in docks offer the perfect balance of strength and mobility. Rearrange your dock and place it anywhere, from water to land and back again. Multiple systems come together to make for simple leveling, moving, and reconfigurations.  
MULTIPLE ANTI-SWAY WHEEL KITS
Less tools, less people, less fuss; that's what a roll-in dock looks like when you come to Western Boat Lift. High-density polymer wheels make lifting simple, even for a single person.
APPLICATIONS
Roll-In Docks are Best Suited for:
Medium to hard bottoms
Mild or moderate slopes
Spacious shore areas


SPECIFICATIONS 
Roll in Dock Sections come in 4', 6', or 8' widths and 8', 12', or 16' Lengths
Shore end ramps come in 6', 12', or 16' Lengths
Get in touch with our experts at Western Boat Lift to learn more about the technical specifications and options available.
Contact Us